SATAB UNVEILS ITS AUTUMN-WINTER 2022-2023 FASHION TRENDS AND REVEALS A NEW RANGE OF LINEN RIBBONS
Satab will be present at the next PREMIEREVISION – Paris from 21 to 23 September 2021 Accessories Sector – Stand H15
We'll be delighted to meet you there to talk things over and show you our new Autumn-Winter 22-23 fashion collection!
In the meantime, here's a sneak preview of our creations!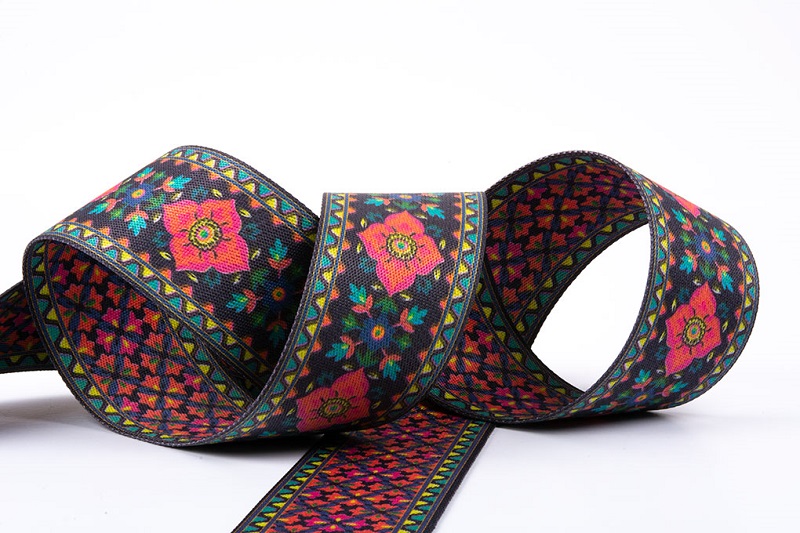 Réf. 1822 – SPAGHETTI LUREX
This spaghetti lurex has a satin finish on one side for softer skin contact.
Ideal for lingerie, it can also be used for lounge wear for delicate finishing touches.
It is available in 1 width (15 mm) and 8 colours.
Réf. i707 –FOLK PRINTED STRAP
This double-sided printed strap offers two matching designs.
Its shimmering colours and folk feel give it a shot of energy!
It's perfect as a belt or bag strap…
Available in 1 width 50 mm and 3 colours.
Réf. 2117 – TAFFETAS COTTON LUREX
The subtle blend of lurex and cotton gives this ribbon a patina finish. Here, the lurex is very delicate for an elegant, delicate finish.
This ribbon will make a pretty belt and in 10 mm it will be perfect for a drawstring or laces.
It is available in 2 widths, 10 and 25 mm, and in 8 colours.
Réf. i705 – LIBERTY STRETCH VELVET
This stretch velvet is printed on the front with a liberty motif and plain on the reverse.
We love its soft feel, ideal for a fancy belt.
It is available in 1 width, 23 mm, and 4 colours.
NEW RANGE OF LINEN
This new range of linen ribbons is in line with SATAB's strategy of developing its Respect Line collection, which already includes a wide range of eco-responsible products.
It is available in 3 widths, 10 – 15 – 25 mm, in bleached and natural colours.