A MISSION:
CREATE NEW USES FOR NARROW FABRICS
Narrow fabrics are and will remain our core business. Adding value to its use is what sets us apart and brings us together. Making ribbons stand out guides our choices. A desire to showcase our work, through innovation and creation, in every link of the in-house production chain. Irrespective of social standing, gender or cultural origin, innovation unites all people. Our actions are inspired by these convictions.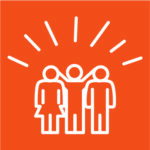 Supporting our teams to help our employees fulfil their potential through meaningful work
Committing to equal opportunity, by passing on our values and know-how.
Implement a global CSR approach and liaise with our partners to create a new model of sustainable consumption reducing our environmental impact and promoting prosperity for all.
Our values embody the very soul of our company, and are upheld every day by all our employees.
Challenge yourself
and test new ideas.
Have the right image of yourself
and others.
Exceed everyone's
expectations.
Be exemplary
in our commitments and behaviour
Our workforceof men and women
are open and accessible.