Satab manufactures anti-spray equipment Made In France and, more specifically, Made In Haute-Loire.
These visors can provide protection against COVID-19 and other viruses by preventing splashing onto the 3 possible entry points for the virus: the mouth, eyes and nose.
Thanks to their transparent APET visor, they protect against potentially infected droplets and sprays, thereby limiting transmission of the virus.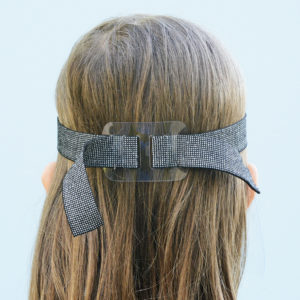 THE BENEFITS OF THIS VISOR:
Local production: 100% Haute-Loire production. The components (visor and adjusters) are supplied by Thermo Steph, a company based in Pont Salomon, and SATAB supplies the elastic band and prepares the kits and instructions for use. With this purchase, you are supporting the local economy and jobs.
Breathable: Air circulates freely under the visor thanks to the offset at forehead level. Breathing is easier than when wearing a mask. However, for those most exposed to the virus, it is recommended that a mask + visor be worn, as the visor alone does not protect against particles remaining in suspension. More information on the website of the French National Institute for Research and Safety (INRS)
Comfortable: The textile is in direct contact with the skin. So it's more comfortable to wear, and less rubbing and sweating than plastic, which can irritate.
Hypoallergenic: The elastic is made from elastane and contains no latex, which greatly minimises the risk of allergies.
Practical: Compatible with glasses, no fogging up of the lenses.
Aesthetic and user-friendly: You can see your face and its expressions, which is a particular advantage for people working with children.
Adaptable: 2 types of visor are available (adult size/children's size) and the adjusters allow you to fit the visor as closely as possible to your head size.
Environmentally-friendly: This visor can be washed, disinfected and reused. What's more, the visor and adjusters are 100% recyclable.
Durable: Each kit contains 2 elastic bands and 2 adjusters, so they can be replaced if worn or the elastic can be washed.
TECHNICAL DATA & INFORMATION :
These visors are sold flat as a do-it-yourself kit, with assembly instructions for each visor. You will need to assemble the visor and the elastic band using the adjusters.
Visor and adjusters: APET Cristal, thickness 400 microns, 100% recyclable, wash and disinfect with a cotton wool pad soaked in alcohol at 70°C.
Elastic band: 24 mm wide woven elastic coupons, 90% polyester and 10% elastane in compliance with AFNOR SPEC S76-001, washable at 60° for 30 minutes, Oeko-Tex certified, class 2, 70 cm long, ultrasound cut finish.
Please note that this kit is not a medical device.
These visors should be used in addition to barrier measures, in particular washing your hands before and after putting the visor in place.
Store in a cool, dry place away from any source of heat that could deform the visor.
These visors are packaged in boxes of 25 visors but can be sold individually (up to 24 visors), with a minimum order of 4 pieces.
For single sales (< 24 units): children's and adult sizes can be mixed.
For sales by the case (>25 units and multiples of 25): case packed by size. The quantity in each size must be specified on the form.
RATE:
3 excluding VAT / visor (carriage paid)