NEW SATAB FASHION COLLECTION SPRING-SUMMER 2022
Here's a sneak preview of some of the new items in the Satab Fashion Spring-Summer 2022 collection, with ribbons in bright, colourful patterns, upcycled fringes, and colours and prints that will bring out the personality of ready-to-wear and footwear creations…
Ref i700 – Striped webbing on both sides
First of all, here's a striped strap printed on both sides. This very colourful version will be perfect for leather goods, particularly as a strap for carrying yoga mats, for example. It can also be used for more 'home' applications as a strap for outdoor cushions.
Ref i703 –Gilded cotton taffeta
Then, make way for the brilliance of gilded cotton taffeta. This article, with its fine, delicate gold or silver print on cotton taffeta, will be a precious ally for women's and children's formal wear as a belt, edging, etc.
Ref 7442 – Aztec pattern grosgrain
Here's a double-sided Jacquard grosgrain that plays the fantasy card. These colourful Aztec motifs are destined for the women's/men's/children's fashion market, where this grosgrain will find its place as a pocket or trouser edging, on a belt… but also as a home decoration: on cushions, lampshades…
Ref i697 – Camouflage satin ribbon
This sequined satin with a camouflage print is ideal for fashion applications: lacing sweaters, decorating footwear (bows)…
Ref 7116 – Camouflage ikat braid
Finally, here's this braid, on a mottled cotton background, embroidered with shiny threads worked slightly in ikat, reminiscent of embroidery.
This product is ideal for the fashion market, as an accessory for tops, jackets and bags.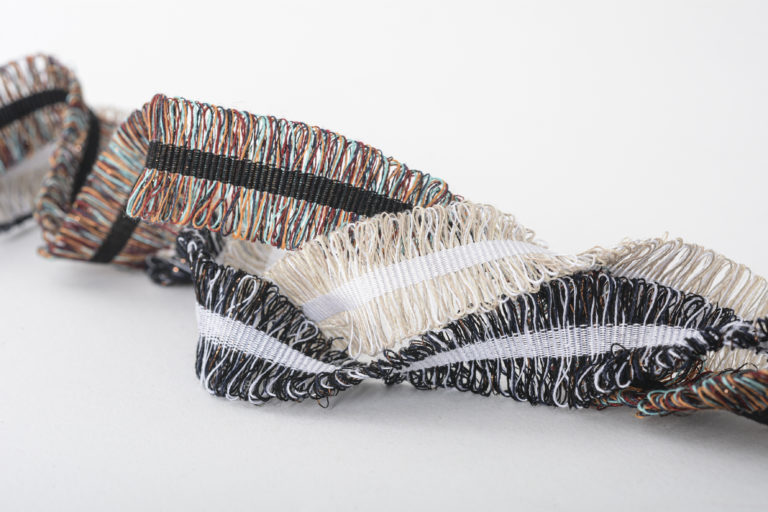 Ref 7447 – Frange linen lurex
Next, we present a fancy fringe made from a mix of linen and lurex, which gives this fringe a very handmade look that's both natural and sophisticated.
As well as being a pretty product, this fringe is more environmentally friendly thanks to Upcycling! This means that this item is made from yarns that were destined for destruction because they were no longer used. Reusing these yarns reduces the harmful effects of landfilling non-hazardous industrial waste. It also reduces the need to produce new yarns (saving energy and transport).
It will be ideal for fashion accessorising sandals, espadrilles, etc. and for home use: decorative objects, cushions, tote bags, etc.